After being forced to use the Ohio Open Records law, Ohio environmentalists obtained testing results conducted by the Ohio Department of Natural Resources that measured the radioactive content of oilfield brine. ODNR tested brine waste from three categories of oil and gas wells:
• Brine that was produced from 118 Conventional wells drilled vertically to access shallow oil and gas deposits directly beneath them.
• Brine that was produced from 25 Horizontal wells drilled to follow the deep geological layers of the shale deposits.
• Brine that was produced from 8 Out-of-State wells and sent to Ohio for disposal.
These151 samples taken from 150 wells were tested for concentrations of Radium 226 and Radium 228
ODNR's Own Testing Confirms what opponents of Ohio's oil and gas development policies have said for decades:

Free Road Brine and Brine-based Deicers and Dust Suppressors use waste that is loaded with Cancer-Causing Radioactive Elements.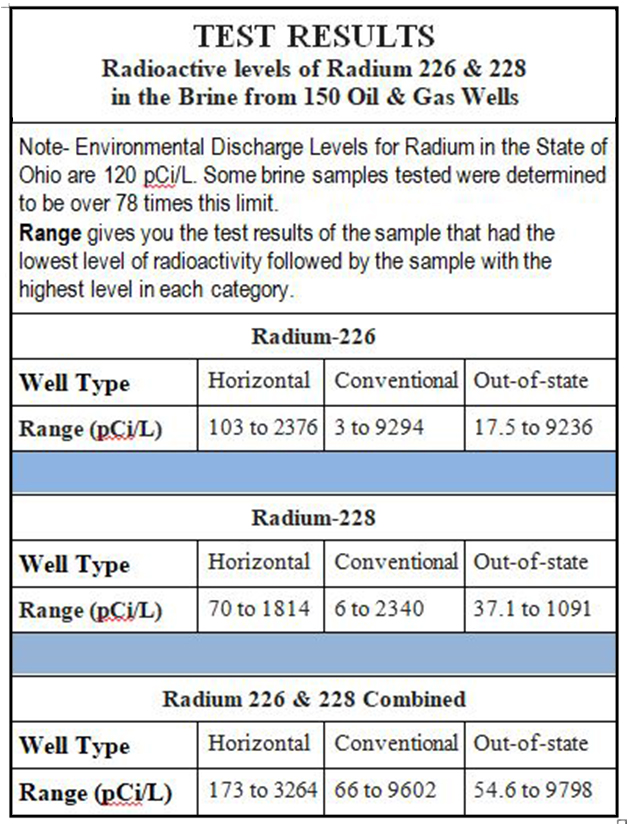 Results from tests have revealed that this brine contains dangerously high levels of cancer inducing radioactivity. Radium 226 is especially treacherous because it is soluble in water. The human body treats it like calcium and deposits it into the skeleton where it causes painful debilitating tumors, broken bones and can metastasize into other parts of the body. About half of all bone cancers result in death.
Because radium is water soluble it can find its way into drinking water sources, especially in rural areas where water is drawn from shallow wells, ponds, creeks, and springs. Cash strapped townships are accepting this hazard because it is free and they have been led to believe it is safe by proponents of the Oil and Gas Industry.
The State of Ohio should immediately stop promoting this practice and begin providing all our townships with road salt funded by a tax on oil and gas operations. With the aid of policies, laws and regulations enacted by our legislators our counties have been stripped of local control and adequate funding. They have been reduced to colonies of the gas and oil industry. This brine spreading policy is a direct threat to the health of Ohio families.
Exposure to even low levels of radium can result in an increased incidence of bone, liver, and breast cancer. The EPA and the National Academy of Sciences' Committee on Biological Effects of Ionizing Radiation, have stated that radium is a known human carcinogen.
Ohio Department of Natural Resources tests show combined Radium-226 and Radium-228 in all 151 well samples.
148 of these samples exceed the 120 pCi/L Environmental Discharge Limit.

All 151 samples tested exceed the federal drinking water standard of 5 pCi/L. (pCi/L = picocuries per Liter, a measure of radioactivity levels.)
All 25 Horizontal wells exceeded both the Environmental
Discharge Limits and the Federal Drinking Water Standards.
All 118 Conventional wells exceeded the Drinking Water Standard. 115 of these wells exceeded the Environmental Discharge Limits.
All 8 Out-of-state wells exceeded the Drinking Water Standard. 7 of the 8 wells exceeded the Environmental Discharge Limits.
High levels of radioactivity can do more damage to smaller people. The body of a small woman would be more susceptible to harm than to a large man and growing children would be most severely impacted. An expectant mother would face grave risks to her unborn child. Other risk factors can also result in certain individuals being more vulnerable than others to the effects of radiation.
ODNR has long maintained that brine spreading on roads is safe because the waste used is produced by conventional wells and not unconventional horizontal wells. The testing proves this is not true.
Once released into the environment Radium 226 remains dangerous for centuries. It has a half-life of 1600 years. This means that in the year 3619 any of this element that is spread today will still be emitting 50% of the radiation levels it is currently releasing. Radioactivity levels in one of the samples tested from a conventional well was over 78 times higher than permitted by the Environmental Discharge Levels. By 3619 it would still be 36 times higher than allowed by the Environmental Discharge Levels. Radium does not just disappear.
After brine has been spread on a paved road or sidewalk you can see the white precipitate that is left after the brine dries. This is the salt and other soluble elements that remain after the water evaporates. If the source of the brine was the Utica or the Marcellus Shale then based on the ODNR tests one of the soluble elements is Radium 226.